NC State Compost Learning Lab
The NC State Compost Learning Lab (CL2) is a 2-acre education, research and demonstration facility in the heart of the 1,500-acre Lake Wheeler Road Field Laboratory in Raleigh, North Carolina. The site has 26 types of backyard composting and vermicomposting units, both large and small scale, and areas for feedstock storage and hands-on training activities. A 40-ft by 30-ft Worm Barn houses a dozen types of worm bins and about 30,000 worms. Two other structures include a teaching shelter and equipment shed.
As the CL2 continues to develop, the following elements will be included:
Composting Methods

Aerated Static Piles
Turned windrows

Compost Applications

Stormwater Management
Landscaping/Production

Turf
Flower beds
Fruit trees
Native trees, shrubs, and grasses
Greenhouse

Erosion Control/Slope Stabilization

Compost Socks
Compost Blankets (on 2:1 and 3:1 slopes)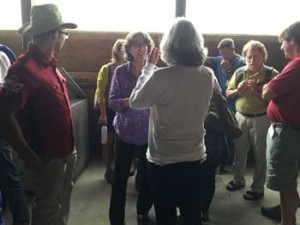 We are developing NC State University's Compost Learning Lab as a premier regional composting demonstration and training site in the United States. We are looking for students, NCSU staff, non-profits, businesses, and community members to get involved. Contact Rhonda Sherman at sherman@ncsu.edu to indicate your interest in volunteering or donating money, goods or services.
The following businesses and organizations are already contributing to NC State Compost Learning Lab: 
Caterpillar
NC State Sustainability Fund
NC State Waste Reduction and Recycling Office
City of Raleigh Solid Waste Services
Earth Farms
Ecoverse
McGill Environmental Systems
---
Courses and Workshops for the Public: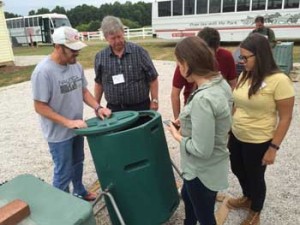 Hands-on training courses are offered periodically, including:
How to compost organic materials in your back yard.
Vermicomposting for extension educators, recycling coordinators, the general public, teachers, and Master Composters and Gardeners. Topics include setting up a worm bin, harvesting and using vermicompost.
Training Sessions for Businesses, Farms and Municipalities:
Sessions address on-site composting methods for businesses, farms, institutions, and industries.
Annual Vermiculture Conference is the world's only training on large-scale vermicomposting. Speakers and participants from around globe spend two days discussing worm farming methods. 
A five-day training course on large-scale composting is offered yearly by the USCC-NC Composting Council. The training is for public and private composting operators, farmers, recycling specialists, extension educators and other governmental agency personnel. Topics include the chemistry and physical processes of composting, developing feedstock mixes, site selection and preparation, odor control and marketing.
Factsheets on composting, vermicomposting, recycling, and other waste reduction topics may be accessed from Rhonda Sherman.
Was the information on this page helpful?