Recycling & Solid Waste Reduction
What is Recycling?

Recycling is the process of taking a product that can no longer be used and making another product from all or part of it. The internationally-recognized symbol for recycling is three arrows moving in a triangle. Each arrow represents a different part of the recycling process, from collecting used materials, to re-manufacturing them into new products, and then reselling them.
---
Why Recycle?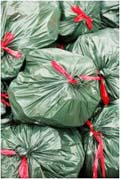 Recycling offers many advantages, including:
Reduces the consumption of raw materials
Decreases air and water pollution
Lowers energy usage
Reduces the need for more landfill space
Creates jobs
Reduces waste disposal costs
Generates revenues from the sale of recyclable materials
Provides raw materials for industry
Keeps habitats intact
Reduces greenhouse gas emissions
Recycle these items that are banned from NC landfills:
Aluminum cans
Appliances
Antifreeze
Beverage containers from ABC permitted facilities
Computer equipment
Lead-acid batteries
Motor oil
Motor oil filters
Oyster shells
Plastic bottles
Scrap tires
Televisions
Wooden pallets
Yard debris (leaves, grass, branches, etc.)
---
Recycling Resources
Recycling Extension Publications
by Rhonda Sherman, Extension Specialist
North Carolina Recycling Information
---
Recycling Links
Was the information on this page helpful?